Media violence information and strategies
About The Free Radical: This site, based in Toronto, Canada, is operated by anti-violence activist, Valerie Smith. It provides information on various aspects of the media violence problem -- with a particular emphasis on the mistreatment of girls and women in popular culture -- and suggestions for trying to combat it. Click here for background and activist highlights.
This site has been created for people wishing to get involved. A good place for Canadians to start is with the Action Agenda: A Strategic Blueprint for Reducing Exposure to Media Violence in Canada, available for free download on this, and other sites.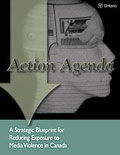 Funded and published by Ontario's Office for Victims of Crime (OVC), an agency of the Ministry of the Attorney General, the Action Agenda (which I wrote) is a compendium of crucial information on the issue, along with 42 recommendations for change. The OVC authorizes reproduction and distribution of the Action Agenda for research and education purposes.
The report was published in 2004 and there have, obviously, been some changes since then, but if you're new to the issue, reading it will save you a lot of time and effort.
Other than that, there is a hodgepodge of information on various aspects of the entertainment industry -- articles, research documents, links to web sites. Hope you find it useful.
Valerie Smith, Toronto, Ontario
[email protected]
Site last updated March 27, 2021