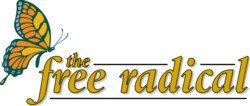 Esprit de corpse
On the set of TV's red-hot CSI franchise, you have to watch out for all the gore, not to mention the bloody infighting among the rival casts, writes GAYLE MacDONALD
March 19, 2021
Globe and Mail
By Gayle MacDonald
LOS ANGELES -- There are roughly 45 queasy journalists standing around what CSI creator/producer Anthony Zuiker is jovially referring to as "Spatula Man." In other words, a dead guy who was flattened when a shipping container was dropped on him in a new episode of the spinoff series CSI: NY.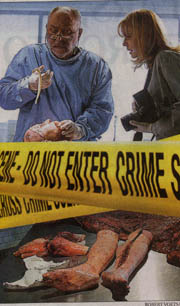 The hapless dock worker -- made out of rubber and urethane foam -- has his hands raised in a flimsy attempt to ward off the blow. Blood and gore is everywhere, mingling with broken ribs that look like someone's particularly gruesome takeout dinner left over from the night before.
A scene too lifelike by far, a few seasoned hacks look like they're having trouble keeping down a lavish breakfast that was just kindly provided by CBS studio's Carla's Cafe, around the corner from the building where Will & Grace is shot.
But Zuiker is downright giddy as he continues his tour of the CSI: NY set, opening a cupboard that he calls his "den of horrors" filled with devices used by a coroner, including a chain saw and something that looks like a giant corkscrew.
We tour the morgue, the crime lab and the reconstruction room. Back in the autopsy room, Spatula Man is joined on a steel gurney by two neatly severed feet (one has gangrene), two disembodied hands and some brain fragments.
The crimson slabs of human tissue, one frazzled journalist whispers, look like a gruesome sushi platter.
In Los Angeles for a press junket last weekend that drew media types from London, Dubai, Seoul and Cape Town, the entertainment press corps have been assembled to interview the cast and creators of all three CSI hits, including the original (with Billy Petersen), the middle child, CSI: Miami (with David Caruso) and latecomer CSI: NY (starring Gary Sinise).
Now appearing in dozens of countries (its title is translated in China as Tracing Crimes and in Poland as Criminal Riddles), Zuiker's forensic creations are now among the most-watched dramas on TV, consistently ranking among Nielsen's top-20 shows. Their fans are legion and famous (Jack Nicholson apparently Tivos the shows, along with Faye Dunaway and Michael Caine).
And Pulp Fiction/Kill Bill mastermind Quentin Tarantino has signed up to direct the original CSI's season-five finale, set to air May 19, prompting one U.S. publication to wonder recently if Petersen's character Gil Grissom will be turned into a "kung-fu-fighting street pimp or an assassin in a tracksuit."
With some 60-million viewers a week (the majority for the original CSI) tuning into the three CSI series (roughly two million more than the four Law & Order shows), it's the bloodiest crime drama that audiences apparently can't get enough of. "The amount of gore that we get away with on our show is kind of astounding," says Sinise, Oscar-nominated for his supporting role in Forrest Gump, and who now works on a program that buys dead pigs so the show's makers can better gauge realistic blood force. "I think it is too much."
Given the show's soaring popularity -- from Australia to Spain -- one might logically expect the cast to be full of nothing but smiles and good cheer.
But as the round-table interviews progress at L.A.'s swank W hotel in Westwood, Calif., it's clear the behind-the-scenes politicking and backstabbing involved in making these three blockbuster shows could rival, any day, the gritty dramas playing out weekly on the small screen.
Petersen and several of the members of his cast, such as Marg Helgenberger and Gary Dourdan, have been openly critical of the two CSI spinoffs, saying they dilute the brand. Matters got worse when two of the original CSI actors, Jorja Fox and George Eads, were fired (and then rehired) by CBS boss Les Moonves for making excessive wage demands. Hostility heightened between the show's financiers (CBS and Toronto-based co-producer Alliance Atlantis) and its cast, half of whom got raises while the remainder did not, leaving more than a few bruised egos.
"I don't think the spinoffs hurt our show," said Fox, who didn't get a raise after the contract dispute and earns a reported $100,000 per show. "But I think that they were certainly motivated by a certain level of greed. And they weren't anybody's creative brainchild.
They came out of a way to make as much money as quickly as possible." Fox, who plays the alcoholic Sara Sidle, added the pay imbalance has embittered some staff.
Dourdan said that the copycat CSI shows simply aren't as good as the original. "They don't have the chemistry that we have."
Needless to say, that kind of criticism enrages some of the offshoot CSI cast members, who think the original CSI actors arepetty and small-minded. "I've heard all the bullshit," said Vanessa Ferlito, a Brooklyn-born actress who plays the feisty forensic detective Aiden Burn in CSI: NY.
"You know what I feel? I feel like, dude, relax," said the actress who sports a tattoo that says Dad, and one for her Nana. "It is show biz. Do you go home to your healthy family every night? Do you have clothes on your back? How dare you complain?
"But to say that [the franchise] is diluted when they are still number one -- I say, 'Worry about your own show.' "
CSI: Miami's Caruso, a one-time prima donna whose career flat-lined after leaving NYPD Blue in a huff over pay in 1994, disagrees his show is damaging the CSI brand, but opted for a more conciliatory view. "On the one hand, I can't imagine what it is like to try to maintain [the original CSI's] 28- to 30-million viewers a week. That is a high-stakes situation. I have empathy for them because they are toeing the line and facing a huge responsibility each week."
Last March, Petersen got his network bosses riled when he told Playboy magazine that Moonves would make a great guest corpse and added the difference between his show and CSI: Miami is "organic chicken and chicken jerky." CBS didn't dare fire Petersen, who is a huge audience draw. Not long ago the network renegotiated his contract for three more seasons, giving him a producer title and bumping him up to $500,000 an episode.
The irrepressible Petersen did not show up for the junket, a source of huge relief to the publicists.
The three shows follow the same formula, that of a procedural crime drama where the actors get to use pricey equipment (spectrometers, genetic analyzers and ViewSonic computer monitors). But in style and tone, each member of the trio is distinct.
Grissom's Las Vegas is neon-lit, nerdy and all about the science, with an emotionally detached chief who'd rather hang out with bugs than humans. Caruso's CSI: Miami, which debuted in 2002, is all heat, sex and gorgeous people who get eaten by crocodiles or spectacularly blown up.
"We're totally superficial," laughed Khandi Alexander, who plays Miami Chief Medical Examiner Alexx Woods. "Our show is beautiful, sunny Miami. I'm a doctor but I wear a push-up bra. And we don't make apologies for it."
Sinise's CSI: NY, at first blue-tinged and dark when it premiered in 2004, is the most character-driven -- and the most gruesomely graphic -- of the three. It started off a huge hit, but then, according to Zuiker, began to "hemorrhage viewers" because it lost the CSI focus and forgot to reflect New York's quintessential atmosphere.
"I put all the personal stuff up-front and the mystery was too black. We had to lighten up. We have told better New York stories recently, such as the death of a Red Sox fan. Now we're back in the top-20 shows."
But what's behind the show's universal appeal? Robert David Hall, who plays coroner Dr. Robbins on the original CSI, said post-9/11 there seems to be "an international hunger for the bad guys to be nailed accurately."
So influential is the show, for instance, that Hall says some jails and federal penitentiaries have banned it (criminals are getting way too many ideas). And just last week, a teen in Florida arrested for as many as 120 home-and-car break-ins crowed to police that he learned how to get away with burglary by watching CSI.
The three CSI shows -- along with Law & Order -- have spawned a legion of copycats so that corpses on prime-time TV are piling up like cordwood. There is Navy NCIS (which stands for Naval Criminal Investigative Service), Forensic Files; I, Detective; The Shield; Cold Case; Without a Trace; Numb3rs; Blind Justice; Medium; House and Medical Investigation, the NBC invention where doctors hunt down the origin of disease outbreaks.
CSI: Miami's push-up-bra-wearing Alexander said, "The whole crime drama as a whole is getting a bit carried away. I think it is too much."
And you've got to wonder when it will start to backfire.
At the end of the second day of the press junket, journalists reconvene on set of the gothic-inspired Institute of Forensic Medicine in the City of New York. Special-effects/makeup guru John Goodwin, a giant of a man, is letting journalists touch rubbery body parts, while he puts the finishing touches of two large gashes on the left-hand side of model Stephanie's once-pretty face.
She looks downright ghastly, but Goodwin says Spatula Man was by far his biggest challenge to date, which he and his team created after studying images of victims of industrial accidents.
He and three colleagues took 2½ days, and gallons of bright blood jam, to get the corpse right. He says he's sure Tarantino, when he arrives at the end of April to direct CSI's season finale, will have some even taller, more gruesome orders.
Zuiker, who got the first draft of the finale from Tarantino last weekend, was giving no hints, except to say one of Grissom's forensic team will be put in a life-and-death situation. Even the cast members don't know exactly what the bloodthirsty director might have up his sleeve.
Fox says she hasn't been fully briefed on what will occur, but she doesn't think it involves the fatal axing of one of the show's lead characters (all of the original CSI cast members still have a few years left on their contracts).
"I don't anticipate that will happen," said Fox, sipping thoughtfully on a Starbucks coffee, laced with soy milk. "But all bets are off at this point. I don't think any of us felt we could get fired, and that happened. So who knows?"
Adding insult to injury
Individually, each CSI show claims its cast members get along famously, citing great on-set camaraderie and honed professionalism. But ask some of the original CSI actors what they think of the upstarts in Miami and New York and then the fightin' words fly.
The show's producer network, CBS -- whose boss Les Moonves fired two CSI actors at the start of the show's fifth season last September -- took his fair share of thinly veiled direct hits.
Jorja Fox, who along with co-star George Eads on the original CSI was fired and then rehired: "I don't think the spinoffs have hurt our show, but I think that they were certainly motivated by a certain level of greed. And they weren't anybody's creative brainchild. They came out of a way to make as much money as quickly as possible," Fox says. "Right now we have a situation with the show where half the cast got big raises at the beginning of the season, and half the cast is working without a raise. And I don't think that is necessarily healthy for a group of people either. You know, it's an ensemble cast, and that creates a weird kind of scales and balances."
Gary Dourdan, who plays the hunky Warrick Brown, on CSI: "The spinoffs were jokes to us at first, because we started out from nothing. We built the show from being almost cancelled, to being a show that was number one in the world. And then as soon as they found out it was number one in the world, they said, 'Thank you very much.' They just made a spinoff. At first, we were like, 'Come on.' And now, you know, we laugh. We have a good time because [copycats] are the best form of flattery."
Dourdan explaining why he doesn't watch the CSI knockoffs: "One, I don't have the time. And two, they're just not as good. I'm sorry. . . . They don't have the chemistry that we have. We've been really fortunate to have a great chemistry in the cast. And the other ones are kind of contrived, you know?"
Marg Helgenberger, the former exotic dancer turned street-smart scientist/detective on CSI: "[The firings] were so unjust. . . . What a way to start the fifth season, as the biggest show on television and the biggest show for that network. And what a message they sent out to us. [The network heads] were getting raises and they all were moving up the chain -- and our show was pretty much responsible for that happening -- and here the cast members are being castigated because they're trying to set a precedent by saying, 'It's really not about any of you. It's really about the franchise.' They love throwing that word around."
Vanessa Ferlito, who plays sassy Brooklyn-born Aiden Burn on CSI: NY, on the spinoff-griping: "I've heard all the bullshit. You know what I feel? I feel like, dude, relax. It is show biz. Do you go home to your healthy family every night? Do you have clothes on your back? How dare you complain?
"If you don't like TV, that's one thing and you want to go and do movies, then you should do that. You should follow your heart and your passion. But to say that this is [diluting the franchise], they are still number one. They are winning. Worry about your own show."
Emily Procter (CSI: Miami) who plays the fashion-challenged forensic detective, Calleigh Duquesne, on the negativism directed at her show: "I don't understand it at all. But if I were the number-one show and people copied me and I remained the number-one show, I would just feel very proud of that. And also I just think if you are an actor and you are working today, we are very fortunate."
CSI ratings skinny
Now in its fifth season, CSI: Crime Scene Investigation ranks as the most-watched program on U.S. network TV. This year's premiere episode earned 30.6-million viewers in the United States, nearly double The Apprentice's haul under the tutelage of The Donald.
Its 100th episode in mid-November, titled Ch-Ch-Changes was the first episode of the series to surpass the 31-million-viewer mark.
In Canada, the 100th episode drew a record-breaking 4.1-million viewers.
The sunnier, slicker offspring CSI: Miami -- now in its third season -- draws an average 19-million U.S. viewers per week, which is 9 per cent better than its second season. Its season-three debut in Canada on CTV attracted more than 3.2-million viewers, making it the number-two drama behind the granddaddy of the franchise, CSI, set in Las Vegas.
CSI: NY premiered in September, 2004. Its first week drew more than 19-million viewers but those numbers have since fallen off to an average of 14.5-million viewers per week. Still, it's CBS's number-one new series.
In Canada, it draws a season-to-date average of 2.1-million.