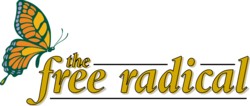 About The Free Radical
This site is operated by Valerie Smith, formerly of Toronto, Ontario, now relocated to beautiful British Columbia. It provides information on various aspects of the media violence problem, with a particular emphasis on the mistreatment of girls and women in popular culture, and suggestions for trying to combat it.
Having worked on this issue for the past 20 years, I (mostly) retired from activism effective July 31, 2011. I will maintain the site as a resource for those with an interest in the topic, posting relevant articles, albeit sporadically, but may not be updating fact sheets or other documents.
Save time and effort
This site was created for people wishing to get involved. A good
place for Canadians to start is with the Action Agenda: A Strategic Blueprint for Reducing Exposure to Media Violence in Canada.
The Action Agenda was published in 2004 and there have, obviously,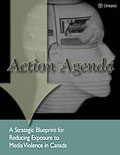 been some changes since then, but if you're new to the issue, reading it will save you a lot of time and effort. The section on Supreme Court of Canada decisions is especially important to understanding freedom of expression rights and restrictions in Canada. Past initiatives from provincial and federal politicians, and the regulatory framework are also useful.
Other than that, there is a hodge podge of information on various aspects of the entertainment industry -- newspaper and magazine articles, research documents and links to web sites.
I hope you find it useful.
Valerie Smith
valsmith@thefreeradical.ca
Site last updated: February 6, 2015
Media violence research
A wealth of research has been conducted on this issue. Visit the Research section for articles and links to useful web sites.
Violence in the Media Coalition
Formed under the auspices of the Ontario Public School Boards' Association, Ontario's Violence in the Media Coalition brings together an impressive and influential group of teachers, school trustees, law enforcement and others, to work on educational and legislative intiatives.